It's peach season, so it's time to make good use of all the fresh peaches. This is a recipe for a tasty cobbler I made--it's much better cold than hot in my opinion. You can use wheat flour if you want in the recipe, I don't think it would make much of a difference to the taste.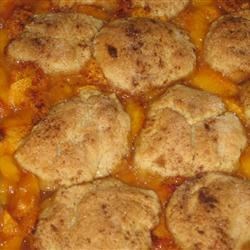 Ingredients:
Peach Filling
8 peaches, peeled and sliced into thin wedges
2 Tablespoons brown sugar
1/4 teaspoon cinnamon
1/8 teaspoon nutmeg
1 teaspoon lemon juice
2 teaspoons cornstarch
Flour Mix
1 cup pastry flour (you can use all purpose if you don't have pastry or cake flour)
1/4 cup white sugar
1/4 cup brown sugar
1 teaspoon baking powder
1/2 teaspoon salt
6 Tablespoons butter, cut into small cubes and chilled
1/4 cup boiling water
Cinnamon Sugar
2 Tablespoons brown sugar
1 teaspoon ground cinnamon
1. Preheat oven to 425. Combine peach filling ingredients in a big bowl, tossing to coat the peaches evenly. Put in a baking dish, and bake for 10 minutes.
2. Combine the flour mix dry ingredients in a big bowl, and blend in the butter until it reaches a consistency similar to that of roughly ground cornmeal. You don't want huge chunks of butter, but be careful not to overmix--this could make your cobbler topping tough. Stir in the boiling water until it is just combined.
3. Remove peaches from the oven, and drop spoonfuls of flour mix over the top.
4. Mix the cinnamon and sugar together, and sprinkle over the top of the cobbler. Bake until the top is golden brown--probably about 30 minutes.
5. Chill the cobbler before eating it if you can, this will improve it's taste dramatically.