Whenever I make a meal that's especially good, I feel like I should tell someone about it so they can enjoy it too. I am going to be posting some of my favorite recipes and meals on here
Thursday, August 25, 2011
Suz made this barbecue sauce yesterday, and it was soooo good. Thanks suz!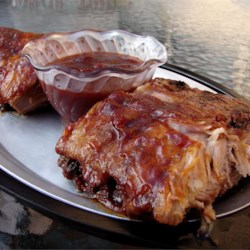 Servings: 16
Friday, August 19, 2011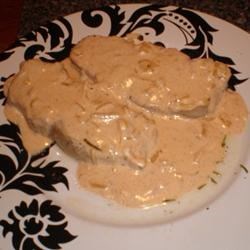 Servings: 6
Ingredients
6 pork chops
salt and pepper to taste
3 tablespoons butter
1 onion, chopped
1 clove garlic, minced
3/4 cup chicken broth
1 bay leaf
1 cup sour cream
2 teaspoons paprika
Directions
Saute onion and garlic in hot butter. Remove from skillet. Trim excess fat from chops and sprinkle with salt and pepper. Brown chops in skillet; pour off fat.

Lower heat, add bay leaf and chicken broth. Cook covered over low heat for 1 hour. Transfer chops to a serving plate, but keep them hot.

Heat juices in skillet and reduce to half. Add the sour cream, onion-garlic mixture and paprika, blending thoroughly. Heat through, but don't boil. Pour over pork chops and serve.
Posted by

Rich
at 7:04 PM
3 comments:


Saturday, August 6, 2011
Servings: 16
Ingredients
3 cups fresh basil leaves
1 1/2 cups chopped walnuts
4 cloves garlic, peeled
1/4 cup grated Parmesan cheese
1 cup olive oil
salt and pepper to taste
Directions
In a food processor, blend together basil leaves, nuts, garlic, and cheese. Pour in oil slowly while still mixing. Stir in salt and pepper.
Posted by

Rich
at 9:07 PM
5 comments: