This recipe is basically cookie dough cooked as a cake. It's delicious, but get your milk ready when you eat these. You're going to need it :)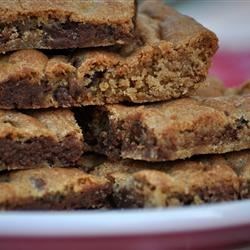 2 1/4 cups all-purpose flour
1 teaspoon baking soda
1 teaspoon salt
1 cup butter or margarine, softened
3/4 cup granulated sugar (powdered is ok too)
3/4 cup packed brown sugar
1 teaspoon vanilla extract
2 large egg
1 (12 ounce) package chocolate chips
1 cup chopped nuts
Preheat oven to 375 degrees F.
Combine flour, baking soda and salt in small bowl. Beat butter, granulated sugar, brown sugar and vanilla extract in large mixer bowl until creamy. Add eggs one at a time, beating well after each addition.
Gradually beat in flour mixture. Stir in morsels and nuts. Add cookie dough to a greased 9x13 pan, and flatten.
Bake for 20 minutes, or until edges are golden brown.