I know a lot of my recipes can get a bit complicated, but this casserole is quick, easy, and very tasty!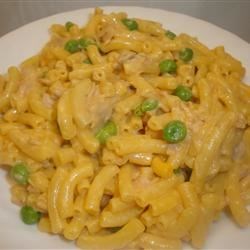 Servings: 4
Ingredients:
box mac and cheese
cream of mushroom or chicken soup
canned tuna or chicken
frozen peas (you can use canned, but i think they are gross haha)
Make mac and cheese according to box directions (or your favorite way).
Stir in cream of soup, chicken/tuna, and frozen peas. Add whatever seasonings you want, and heat on stove until peas are no longer cold.
I dare you not to enjoy this! haha