So i made chicken spaghetti. It was awesome, hopefully i can remember everything that went into it haha
Serves 4 to 5
Prep time: 1.5 hours (on the mustard beast, having lids also will speed up cooking )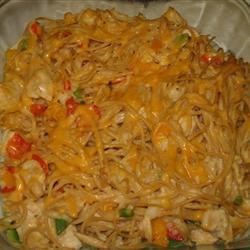 Ingredients:
sliced bacon
dry spaghetti, or similar pasta
canned tomatoes
1 cream of celery soup (chicken, mushroom, or tomato will also probably work as well)
3/4 cup sliced mushrooms
one chopped onion
chopped red and green bell peppers
3 cups of chicken, chopped or shredded
cheese!! use a couple different kinds (mozzarella, parmesan, cheddar, colby jack, etc)
cooking wine (if your 'cream of'' soups are old and dry like mine was haha)
milk
cream cheese
4 cloves garlic, chopped
basil
montreal chicken seasoning
lemon pepper
red pepper
cumin--just a pinch
parsley flakes
garlic powder
large skillet with lid
pot for spaghetti
large glass baking dish
Preheat oven to 400 F.
Boil salted water and add spaghetti. Cook al dente, and strain.
Spray skillet with oil. Cook the chicken and bacon with: chopped onions, bell peppers, garlic, mushrooms, etc. Season chicken with lemon pepper and montreal chicken seasoning.
When the chicken is cooked well add canned tomatoes. Stir in basil, garlic powder, red pepper, and cumin. If your chicken is still dry, add cooking wine. Cover, and allow to come to a boil. (If your tomatoes come with as much juice as mine did, boil without a lid). Simmer until sauce begins to thicken, and the red pepper has released its flavor.
In a bowl, mix 'cream of soup' with cream cheese. Stir in milk if your soup is a little dry.
Add the soup mixture to the skillet and stir lightly.
When it is all heated through, add with spaghetti noodles into glass baking dish. Toss with a fork, and add cheese in layers on the top.
Cook in oven until cheese is melted.
This was pretty tasty stuff