Green onions and olives worked nicely with these enchiladas.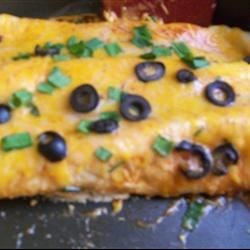 These enchiladas are seriously amazing. They take a little while to make, but if you have the time it's definitely worth it in the end. I made these for Becca's birthday dinner, and they turned out great!
Servings: 8
Total Prep Time: 2 hours
Ingredients
2 pounds skinless, boneless chicken breast meat

1 (10.75 ounce) can condensed cream of chicken soup

1 1/4 cups sour cream

1/2 teaspoon chili powder

1/2 teaspoon red pepper

1 tablespoon butter (might take more)

1 onion, chopped

3 or 4 cloves garlic, chopped

1 bell pepper, chopped

sliced mushrooms

1 (4 ounce) can chopped green chilies

1 (1.25 ounce) package taco seasoning mix

1 bunch green onions, chopped

1 cup water

2 teaspoons lime or lemon juice

1 teaspoon onion powder

2 teaspoons garlic powder

flour tortillas (i bet corn would work too)

3 cups cheese, shredded (cheddar, mozarrella, or other kinds will work)

1 (10 ounce) can enchilada sauce--I used double this

1 can sliced black olives

chicken seasonings and meat tenderizer (my favorite)
Place the chicken in a large pot, add salt and water, and cover (if your meat was frozen, add tenderizer and chicken seasonings). Bring to a boil over high heat, then reduce the heat to medium-low, and simmer until the chicken pieces are no longer pink, about 10 minutes. Shred chicken by placing two forks back to back and pulling meat apart. Set the shredded chicken aside. Meanwhile, combine the cream of chicken soup, sour cream, and chili powder in a saucepan. Bring to a simmer over low heat, stirring occasionally, then turn off the heat and cover to keep warm.

Heat the butter in a skillet over medium heat. Stir in the onion, garlic, mushrooms and bell pepper; cook and stir until the onion has softened and turned translucent, about 5 minutes. Add the shredded chicken, chopped green chilies, taco seasoning, half of the bunch of chopped green onion, and water. Allow to simmer for 10 minutes. Stir in the lime/lemon juice, onion powder, and garlic powder; simmer for an additional 10 minutes.

Preheat an oven to 350 degrees F (175 degrees C). Stir 1 cup of the soup mixture into the skillet with the chicken mixture. Spread the remaining soup mixture on the bottom of a 9x13 inch baking dish.

Fill each tortilla with chicken mixture. Sprinkle Cheddar cheese over the chicken filling before folding the tortillas, reserving half of the shredded cheese for topping the enchiladas. Fold tortillas over the filling and place seam-side down in the prepared pan.

Yay, cheese!

Pour enchilada sauce evenly over the enchiladas. Cover with the remaining cheese. Sprinkle the reserved chopped green onions and the sliced olives on top of the cheese. Bake in the preheated oven

until filling is heated through and the cheese is melted and bubbling.
Bon apetite!
Here's some allrecipes links that gave me some good ideas for these. I wish i'd had some spicy peppers to saute though! :)
http://allrecipes.com/Recipe/Angelas-Awesome-Enchiladas/Detail.aspx