servings: 7
preheat: 350
ready in: 1 hour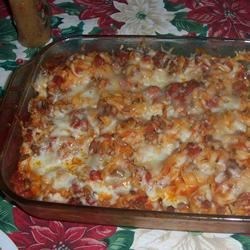 ps this is not my tablecloth
Ingredients
2 cups uncooked egg noodles (can substitute other pastas)
1/2 pound lean ground beef
1 onion, chopped
3 cloves garlic, minced
1 bell pepper, chopped (doesn't matter what color)
1 cup sliced pepperoni sausage
16 ounces pizza sauce
4 tablespoons milk
1 cup shredded mozzarella cheese
1/2 cup cheddar cheese
some green onions, chopped
olives
Cook noodles in salted boiling water. Add a little olive oil if they are especially old and dry (like mine are haha)
In a large frying pan, cook beef, onion, garlic, green onion, and pepper until meat is browned and onions are cooked. I added meat tenderizer and mcormick hamburger seasoning to the hamburger, which had been frozen, and it helped a lot.
Stir in noodles, pepperoni, pizza sauce, olives, and milk--mix well. Pour into glass baking dish.
Pizza Sauce (I didn't have any so i made some). Mix together until smooth:
1 can tomato sauce
1 can tomato paste
2 teaspoon oregano
1 tablespoon basil
1 teaspoon paprika
1 teaspoon italian seasoning
1 teaspoon spicy crushed pepper
creole seasoning (a nice spicy/salty seasoning)
Bake for 15 minutes, then top casserole with mozzarella and cheddar cheese. Bake until cheese melts.
This is really pretty tasty.