Its getting colder, and i had a bunch of stewing beef to use, so i made this beef and veggie soup. It takes a little while to make, but not as long as most soups. You could also make this one pretty easily in a slow cooker.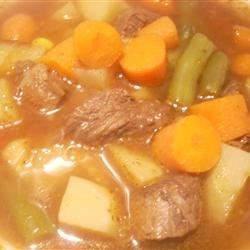 Servings: 12
Prep time: 2-3 hours
Directions
Cover and simmer for 45 minutes or until vegetables are tender. Combine flour and cold water until smooth; stir into stew. Bring to a boil; cook and stir for 2 minutes or until thickened. Discard bay leaf before serving.